MURRIETA, Calif. – Privately contracted firefighters – who work alongside the many California, municipal, county and federal firefighter crews that respond to wildfires across the state – aren't just a luxury for the rich.
While the federal government has been using their services for years, these crews are hired by insurance companies to provide services to homeowners, free of charge, as part of their homeowner's insurance policy.
The contractors, who are working the Tenaja Fire in the Copper Canyon community of Murrieta, provide a wide range of services, from fire sensor installation, to vegetation management, to fire-suppressing foams, and in some cases, engage in actual firefighting.
One such private firefighting company – Wildland Defense Services – had been hired by United Services Automobile Association policyholders.
Ken Kirk, who works with Firebreak Protection Services, said he and his co-worker were checking on roughly 10 houses in Copper Canyon. The crew was in a truck loaded with a tank of fire retardant, a pressure hose and computers.
Tenaja Fire: Southern California fire grows to 2,000 acres; evacuations expanded
Though a number of homeowners in the neighborhood had refused to evacuate, all Firebreak customers chose to leave their homes behind. Kirk said he isn't sure if his presence factored into their decisions to evacuate, but that Firebreak contractors are tasked with keeping houses safe, even when unoccupied.
The company has been serving the insurance industry, specifically homeowners, for nearly 14 years. 
Initially, Kirk said, they checked on the perimeters of the homes to see whether they needed Phos-Chek, the chemical fire retardant, typically red, dropped by U.S. Forest Service airplanes.
Kirk and his co-workers had worked to save three homes from suffering major damage during the windiest part of Thursday. 
"There was some small damage on the property, but nothing that affected the structures," he said.
The Tenaja Fire broke out about 4 p.m. Wednesday in La Cresta, a community perched above Murrieta that contains sprawling, multimillion-dollar estates about 70 miles southeast of Los Angeles. 
Service makes business sense for insurers
David Torgerson is the president and founder of Wildfire Defense Services. Initially his company took contracts for the federal government, but starting in 2008, he found an increased demand from the insurance industry to provide wildfire services to insurance company clients as part of their homeowner's policies.
To date, the company has responded to more than 600 wildfire incidents on behalf of the insurance industry, 130 of which were last year. The fires they've fought with their 400 wildland fire engines are easily recognizable: Thomas, Woolsey and Cranston.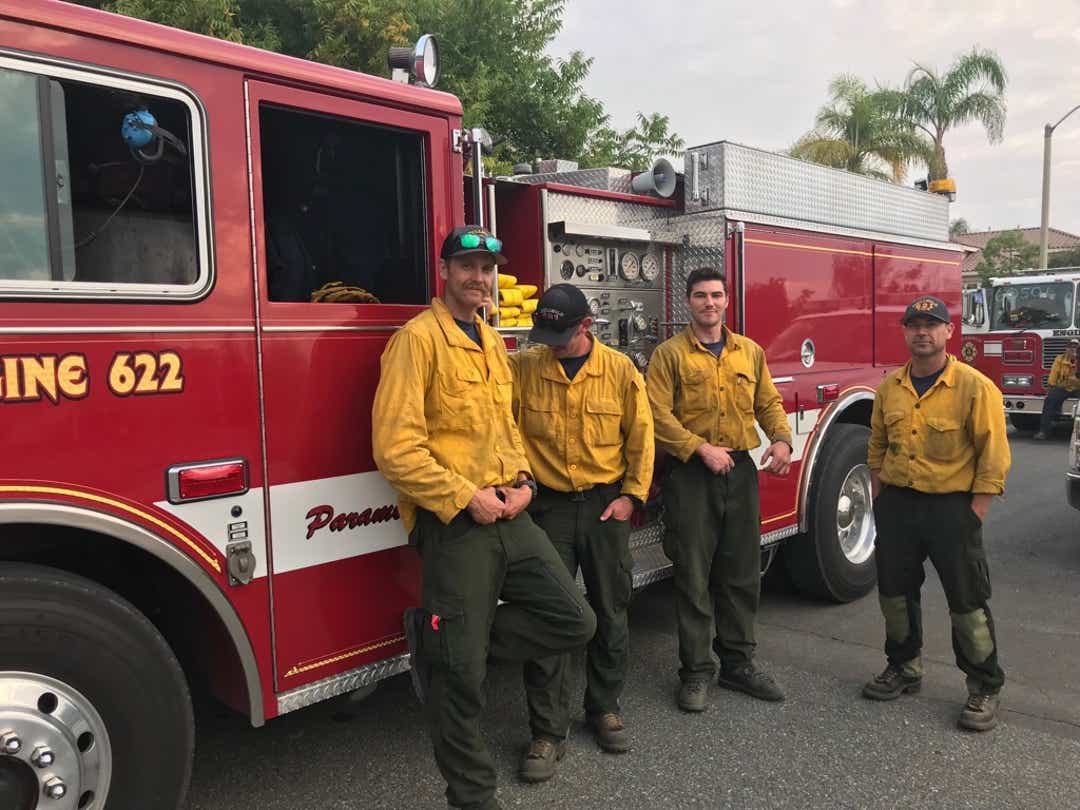 Dozens of insurance companies offer their services, among them Chubb Limited, USAA and The Travelers Companies. 
Erik Nordqvist, senior vice president of personal lines product management at Travelers, said that though customers had yet to use Wildfire Defense Services because the company just started offering the coverage this year, he hopes it will reduce losses for the insurance company on the heels of two financially devastating years of wildfires.
"The impact on our company was more or less on par with the general insurance industry," said Nordqvist. "We had to non-renew some customers, looked at our underwriting, and saw homes in high-fire-risk areas that were impacted by the current fires, and in compliance with the Department of Insurance, made the decision as a last resort."
There were 350,000 non-renewals in California last year in ZIP codes affected by fires according to Department of Insurance data – non-renewed Travelers customers were among them, spread geographically throughout the state.
While Nordqvist said that getting Wildfire Defense Services would not convince Travelers to renew a policy it had decided not to renew, that could come in to play down the line, if the service proves effective. 
Who is buying these services?
The services are especially popular among high-net-worth individuals with multiple expensive homes because they have more to protect, said Kevin Daley, a spokesperson for PURE. The member-owned high-net-worth individual insurer offers Wildfire Defense Services to homes worth $1 million and above.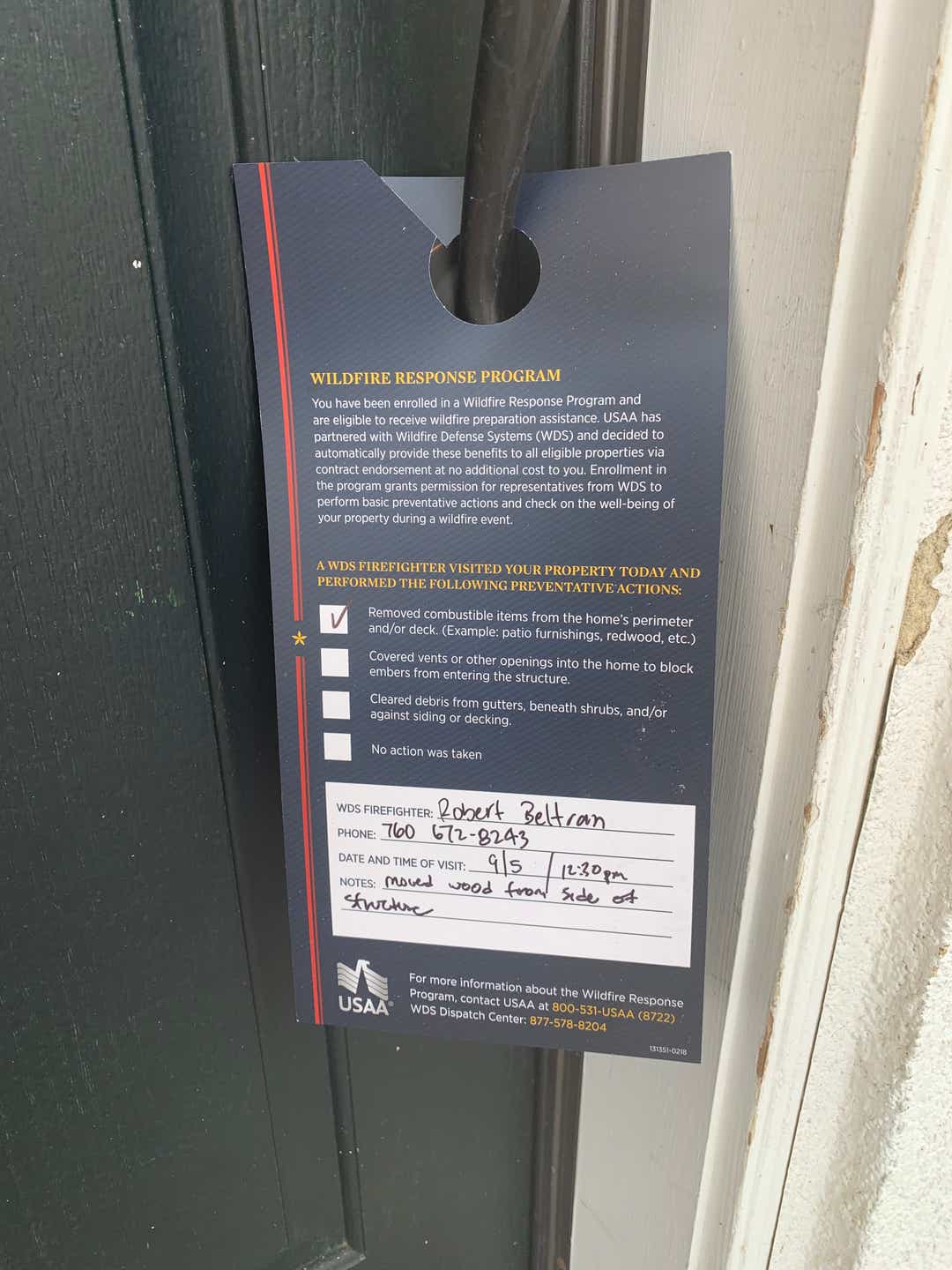 Their situation room monitors natural hazards across the nation, and informs homeowners of approaching wildfires, often before local fire agencies do, Daley said. PURE, too, has had non-renewals in extremely high-fire-risk zones, though Daley said it was a "very small number" because the company has a conservative underwriting process. 
Another reason the rich are more likely to avail themselves of the service? High-risk insurance is expensive to begin with. 
Insurance coverage: Tornadoes, hurricanes and earthquakes: What does home insurance cover after a disaster?
Pam Dyer, who lives in Copper Canyon, said finding fire coverage for her home was difficult because she lives so close to a high-fire-risk area.
A recent report released by the California Department of Insurance found that premiums have increased significantly in the last six years for homes that border wildlands. 
After hearing about some of her neighbors' experiences with the private firefighting contractors during the Tenaja Fire, she is curious about enrolling in a similar policy for her own home.
Follow Gabrielle Paluch on Twitter: @GabbyPaluch