ART NEWS
New Kinetic Floral Sculptures by Casey Curran Blossom Through a Series of Wires and Cranks
[ad_1]

Seattle-based artist Casey Curran builds sculpture environments from wire, laser cut acrylic, aluminum, sculpted brass. His works appear in a constant state of growth and bloom, opening and closing with the assistance of motors or hand-cranked systems. These interactive systems invite the audience to not only watch his sculptures, but participate in their movement.
The works are inspired by complex systems in nature, yet aren't obvious imitations of any particular  source plant or natural object. "When conceiving my pieces I center on a hidden narrative and begin to assign visual elements that aline with the concept of the piece, often utilizing ornate structures and simple construction methods to further highlight my interests in foundation and form," Curran explains on his website. "In the process of creating I look for patterns in nature and symmetry in ecosystems. I look for how innovation shapes itself into our ever expanding systems of complexity and knowledge."
You can see more of Curran's kinetic sculptures in motion on Instagram and Vimeo.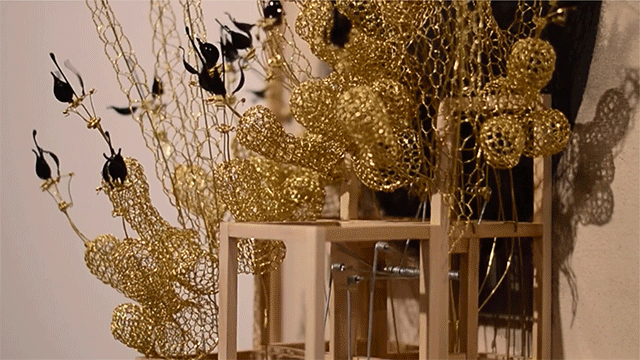 [ad_2]

Source link